Revenue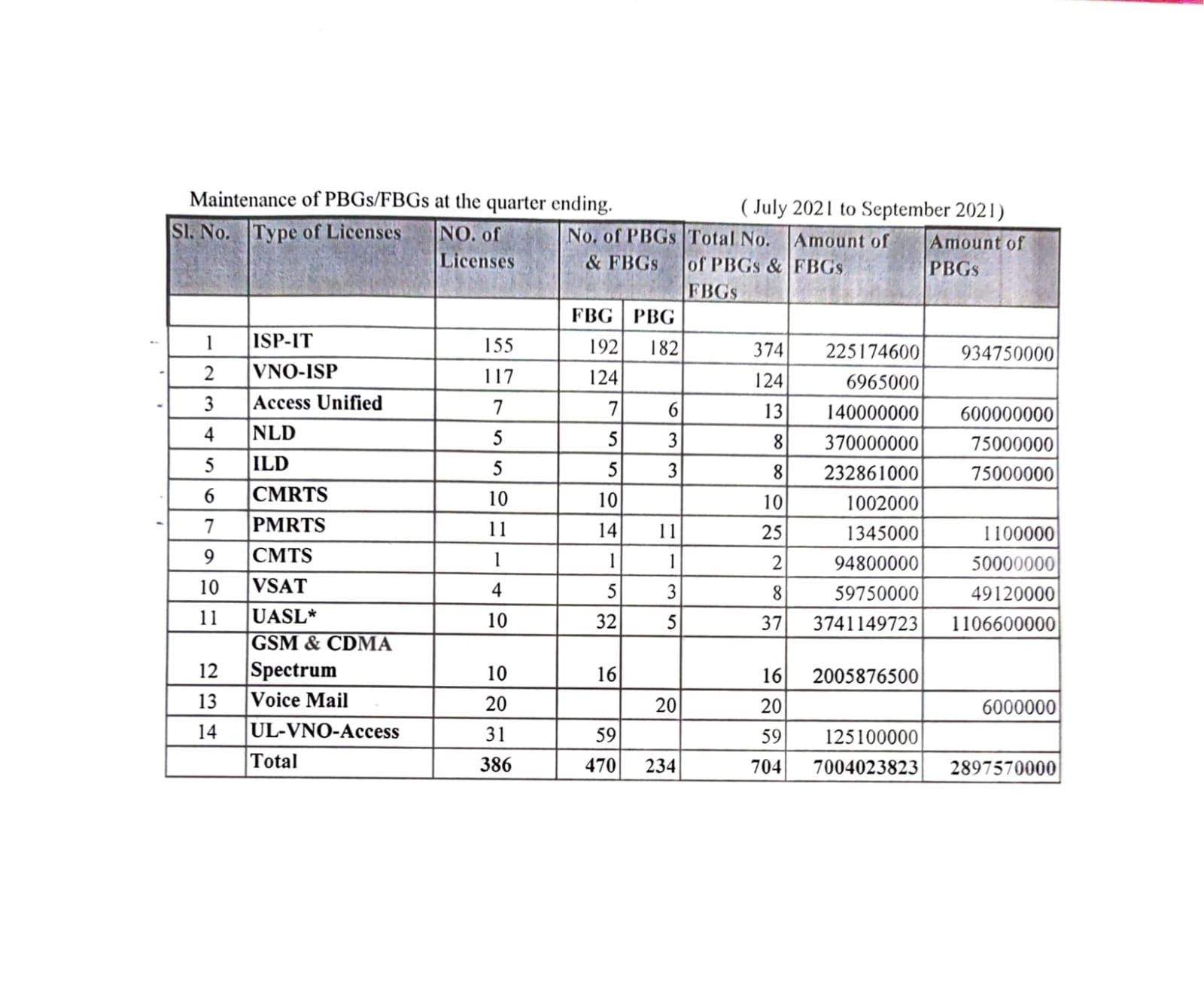 Telecom Licenses
Department of Telecommunications gives Licenses under various categories for provision of different types of telecommunication services. These licenses are valid for 20 years. Companies interested in providing telecommunication services in India are required to get a License. These Licensee companies have to pay License fee in 4 quarterly installments @ 8% of AGR (Adjusted Gross Revenue) and Spectrum Usage Charges, wherever applicable. Further details are available on www.got.gov.in
GROSS REVENUE
The Gross Revenue shall be inclusive of installation charges, late fees, sale proceeds of handsets (or any other terminal equipment etc.) , revenue on account of interest, dividend, value added services, supplementary services, access or interconnection charges, roaming charges, revenue from permissible sharing of infrastructure and any other miscellaneous revenue, without any set-off for related item of expense, etc.
Adjusted Gross Revenue (AGR)
For the purpose of arriving at the "Adjusted Gross Revenue (AGR)", following shall be excluded from the Gross Revenue to arrive at the AGR:
PSTN/PLMN/GMPCS related call charges (Access Charges) actually paid to other eligible/entitled telecommunication service providers within India;

Roaming revenes actually passed on to other eligible/entitled telecommunication service providers and;

Service tax on provision of service and Sales Tax actually paid to the Government if gross revenue had included as component of Sales Tax and Service Tax.*
* now replaced with GST
The Licensee shall be bound by the terms and conditions of the License Agreement as well as by such orders / directions / regulations of the TRAI Act, 1997 as amended from time to time and instructions as are issued by the Licensor/TRAI
No of Licensees

Sl. No.

Type of license

No. of licenses

1

Access Unified

7

2

ISP/ISP-IT

155

3

UL-VNO-ISP

117

4

PMRTS

11

5

CMRTS

10

6

ILD

5

7

NLD

5

8

LF-VSAT

3

9
Spectrum - VSAT
1

10

CMTS

1

11

UASL

10

12

GSM & CDMA Spectrum

10
13
Voice Mail
20
14
UL-VNO-Access
31
TOTAL
386
Verification of deductions
License Fee is charged on the Licensee at the specified rate of the quarterly AGR after allowing admissible deductions. Deductions (PSTN Charges, Roaming charges, service tax, sales tax#) claimed in the audited quarterly AGR are verified w.r.t the vouchers, Bank Statements and other proof of payments. Verification conducted annually for each quarter is intimated to the DoT (Hqrs) in the specified formats.
#now GST
Spectrum Usage Charges
Spectrum Usage Charge is payable by the licensees providing mobile access services, as a percentage of their Adjusted Gross Revenue (AGR). Spectrum usage charges is payable as per the spectrum slabs/ rates notified by the Government from time to time. Following are the Licensee companies for which SUC is applicable:
| | |
| --- | --- |
| Sl.No. | Service providers |
| 1 | Aircel |
| 2 | Bharti Airtel |
| 3 | Tata net VSAT |
| 4 | Idea |
| 5 | MTNL(CMTS) |
| 6 | RCL |
| 7 | RJIL |
| 8 | Systema Shyam |
| 9 | TTSL |
| 10 | Vodafone |
| 11 | Videocon |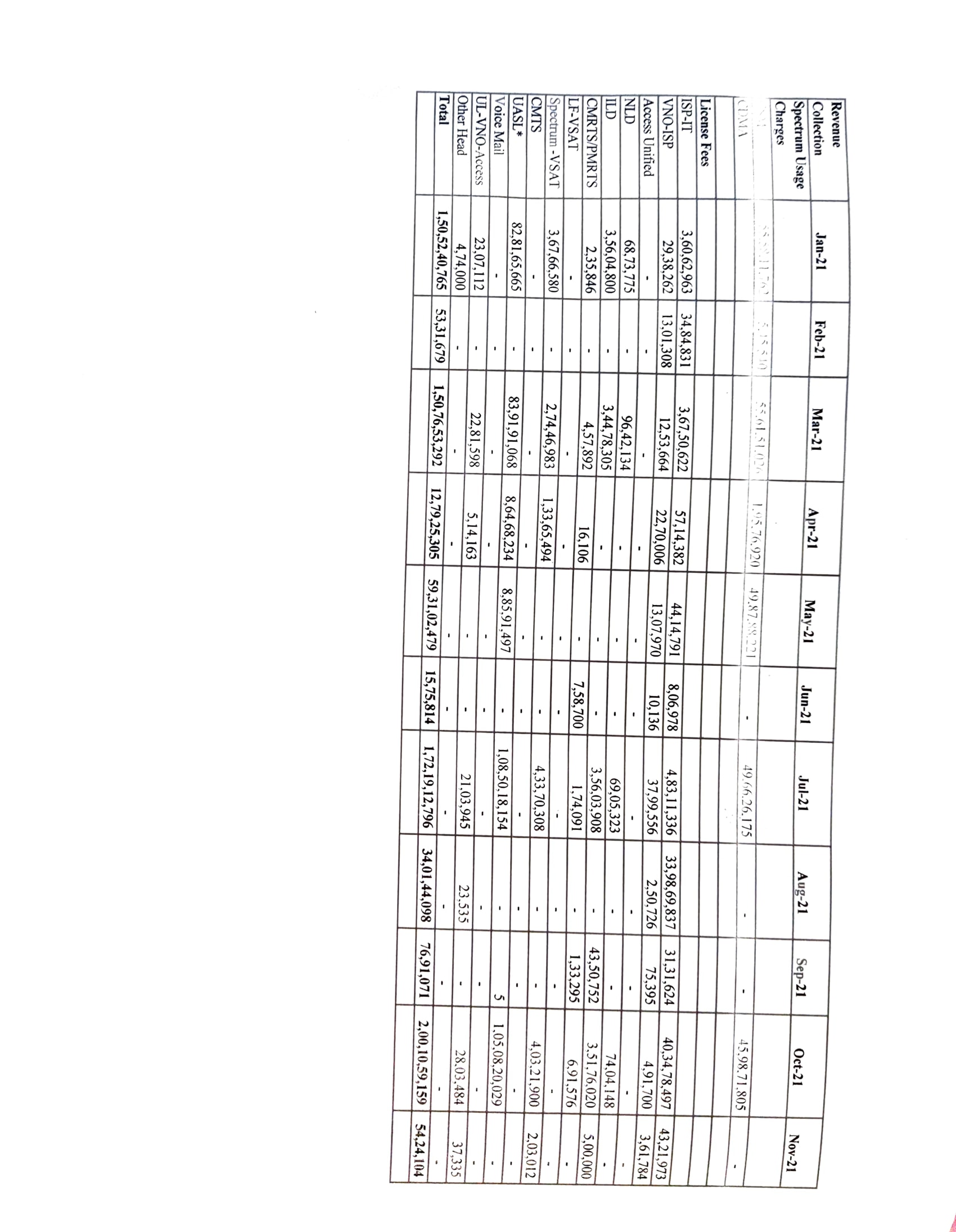 Revenue report from january 2021 to november 2021
| SL.NO | Name Of The Licensee | Type Of License |
| --- | --- | --- |
| 1 | Mahanagar Telephone Nigam Ltd. | CMTS |
| 2 | Vodafone India Ltd. | UASL |
| 3 | Tata Teleservices (MH) Ltd. MBI | UASL-DT |
| 4 | Reliance Communications Ltd. (MBI) | UASL-DT |
| 5 | Bharti Airtel Ltd. | UASL |
| 6 | Idea Cellular Ltd. | UASL |
| 7 | Etislat DB Telecom Pvt. Ltd. | UASL |
| 8 | Unitech Wireless (TN) Pvt.Ltd. | UASL |
| 9 | Sistema Shyam Teleservices Ltd. | UASL |
| 10 | Videocon Telecom. Ltd. | UASL |
| 11 | Aircel Ltd. | UASL |
| 12 | Reliance Jio Infocomm Ltd | Access |
| 13 | Etislat DB (MBI) | GSM |
| 14 | MTNL | CMTS |
| 15 | Reliance Jio InfocommLtd. | Unified Access |
| 16 | Bharti Airtel Ltd. | GSM |
| 17 | Idea Cellular Ltd. | GSM |
| 18 | Tata Tele services (MH) LTd | CDMA |
| 19 | Sistema Smart tele services ltd (MBI) | CDMA |