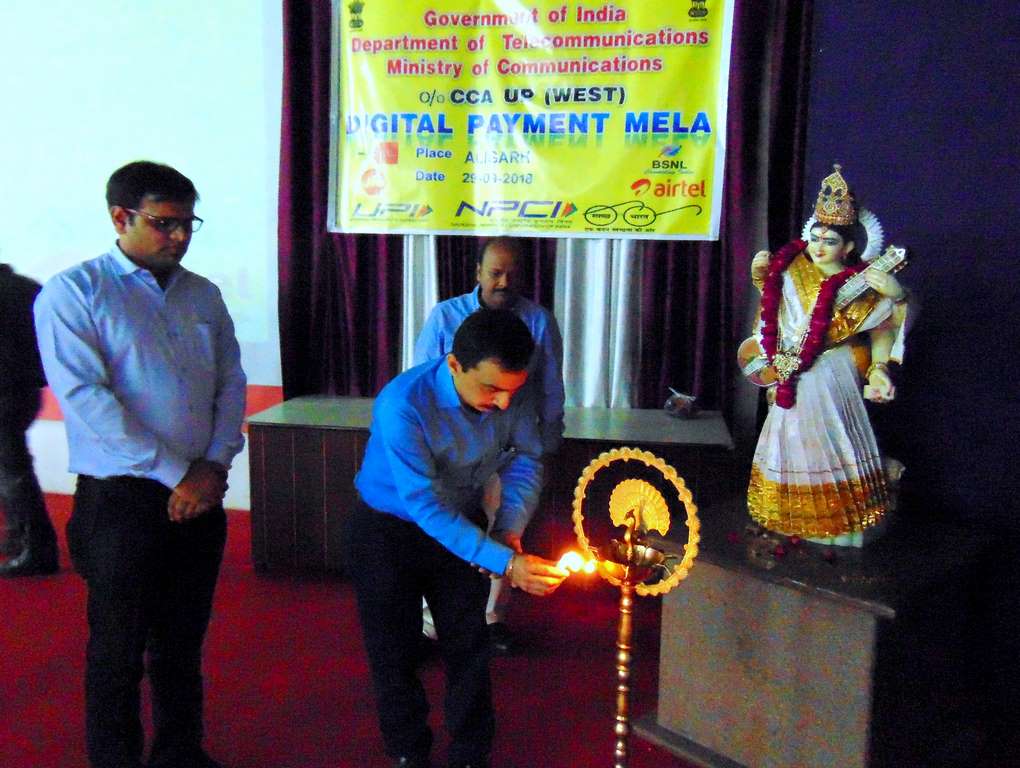 DIGITAL PAYMENT MELA
Digital Payment Mela is organized by the O/o CCA UP-West Telecom circle in the cities of UP West.
Smart cities
Agra –

:
The most beautiful building in the world. In 1631 the emperor Shah Jahan built the Taj Mahal in memory of his wife Mumtaz, who died in childbirth. The white marble mausoleum at Agra has become the monument of a man's love for a woman.
Shah Jahan came to power in 1622 when he seized the throne from his father, while murdering his brothers to ensure his claim to rule. He was known as an extravagant and cruel leader. But he redeemed himself by his generosity to his friends and the poor, by his passion in adorning India with some of its most beautiful architecture, and by his devotion to his wife Mumtaz Mahal - "Ornament of the Palace." He had married her when he was 21, when he already had two children by an earlier consort. Mumtaz gave her husband 14 children in eighteen years, and died at the age of 39 during the birth of the final child. Shah Jahan built the Taj Mahal as a monument to her memory and her fertility, but then relapsed into a life of scandalous behavior. This tomb was only one of hundreds of beautiful buildings that Shah Jahan erected, mostly at Agra and in the new Dehli that came into being under his planning.
Moradabad -:
Moradabad was established as an office for the Chaupala pargana during emperor Akbar's regime. In AD 1624 it was captured by Rustam Khan, the then Governor of Sambhal who named it Rustam Nagar. Later, in AD 1625 its named was changed to Moradabad, after the name of prince Murad Baksh, the son of Mughal emperor Shah Jahan. A mosque named Jama Masjid was constructed in the city by Rustam Khan for the Mughal Emperor.The city is known as Pital Nagri, ("Brass City") for its famous brass handicrafts industry. It is also divisional headquarters of Northern Railway (NR). Moradabad is a major industrial city and export hub. Its handicrafts industry accounts for more than 40% of total handicraft exports from India.
Saharanpur -:
Saharanpur (India) is internationally famous for its Wood Carving Work. Dating back to about 400 years ago in Mughal period, some Craftsmen came from Kashmir and settled down in Saharanpur and took this work as to earn their bread and butter. Gradually this Art got extended amongst common man in Saharanpur. And now wooden Handicraft work is famed all over the world. Almost. 100,000 Artisans, Craftsmen & Labourers are involved in this industry. These Artisans, Craftsmen & Labourers are working very hard, day & night, for their survival.